Our District Governor stopped by!
DG Lion Ev Spiering came to town for a visit during our October dinner meeting.
Fall Fair 2022
This year's fall fair float commemorates 75 years of Lionism in Thorndale.
Grillin' burgers
On Oct. 6th, the Lions ran the grill at the West Nissouri Public School Meet the Teachers night.
Club Family Picnic
On Aug.27th, the Thorndale Lions held their annual Family Picnic at East Park London.
Gavel returns home
Hyde Park and District Lions Club visited us during our March dinner meeting and was gracious enough to return our "lost" gavel.
District Governor Visit
Fall Fair Float
Chilling and Grilling
Picnic Time!
Hyde Park visits Thorndale
THE THORNDALE LIONS WOULD LIKE TO SAY THANK YOU TO THE SPONSORS OF OUR 19th ANNUAL CAR SHOW AT THE THORNDALE FAIR
Henshaw Farms

McCutcheon Farm Drainage Nuview Farms Woodstock Ford Oxford Tire Thorndale Farm Supplies Fieldcrest Beans Dave Versteegh Auto Repair St Marys BMO Thorndale Family Restaurant Ideal Supply St Marys NAPA APC St Marys St Marys Ford All Roads St Marys St Marys GMC Buick Sassys Thames Centre Services Broil King Ace Hardware Thorndale TRS Thorndale Performance Unlimited G&C Garage Crumlin NAPA Oxford East London Tara McKenzie Middlesex Mutual Insurance
Clare & Clayton Coward

Cathy & Bruce Montieth Swish Cleaning Products Petro Can Davis McCauley Fuels Grainger Tire & Auto Zubyk Scrap Metals Traction HD Parts For Wheels Auto Care Fox's Auto Sound Roy's Garage School House Batteries Thames Centre Lubricants Tim Hortons Clarke Rd. & Trafalgar Charterhouse Collision & Towing Heemans Greenhouses Alan Woods Delaware Speedway Live Edge by Tanya Genist John & Cherie Stenabaugh Murray & Sandy Pink
Cash and Dash 2023 tickets are on sale now!
Tickets are $135 each
Only 300 tickets are sold!
Starting January 2023, one ticket will be drawn on the first Friday of every month, and the winner will receive a cash prize.
There are nine $2200 prizes, two $1500 prizes, and a grand prize of $4000.
All proceeds to towards community projects.
To order tickets, click the link below.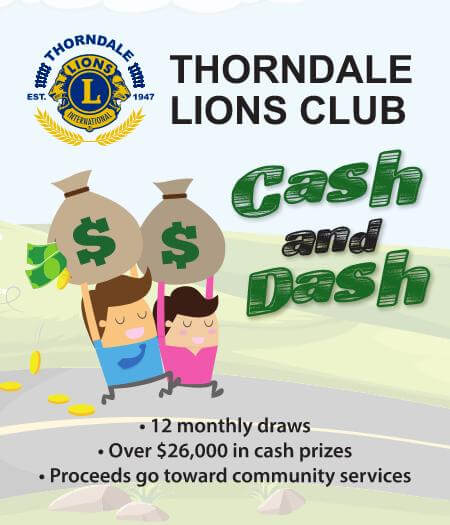 Friendship Arch
Concrete friendship arches are now available for purchase through the Thorndale Lions Club. The arch is 6' tall and the base is 4'x7'. Includes 2 reflective Lions International logos. Weight is approximately 3000 lbs.
Cost is $3300
To purchase a friendship arch or for more info, contact Lion Murray Pink
519 494 9997 (cell) or 519 461 1580 (home) or mpink@start.ca