Club Family Picnic
On Aug.27th, the Thorndale Lions held their annual Family Picnic at East Park London.
Gavel returns home
Hyde Park and District Lions Club visited us during our March dinner meeting and was gracious enough to return our "lost" gavel.
Our District Governor stopped by!
On Oct. 6th, our District Governor Lion Val Burningham visited our Club and checked out our new community centre.
Fair food is the best!
After a year off, we were back cooking delicious fair food at the Thorndale Fall Fair.
Santa comes to Thorndale
On Dec. 11 Santa Claus made an appearance at the Thorndale Fairgrounds during The Lions Santa Claus Drive Thru.
Class picture!
We took a Club photo at the end of February and we are so glad we did. This is the last photo inside the Lions Den before the fire that destroyed our community centre.
Picnic Time!
Hyde Park visits Thorndale
District Governor Visit
Fall Fair Food Booth
Santa
Club Photo
Cash and Dash 2023 tickets are on sale now!
Tickets are $135 each
Only 300 tickets are sold!
Starting January 2023, one ticket will be drawn on the first Friday of every month, and the winner will receive a cash prize.
There are nine $2200 prizes, two $1500 prizes, and a grand prize of $4000.
All proceeds to towards community projects.
To order tickets, click the link below.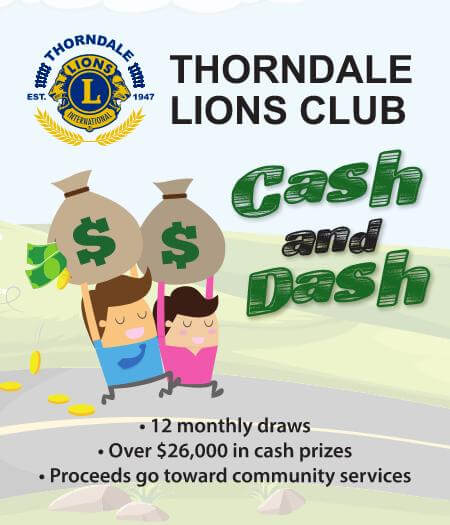 Friendship Arch
Concrete friendship arches are now available for purchase through the Thorndale Lions Club. The arch is 6' tall and the base is 4'x7'. Includes 2 reflective Lions International logos. Weight is approximately 3000 lbs.
Cost is $3300
To purchase a friendship arch or for more info, contact Lion Murray Pink
519 494 9997 (cell) or 519 461 1580 (home) or mpink@start.ca