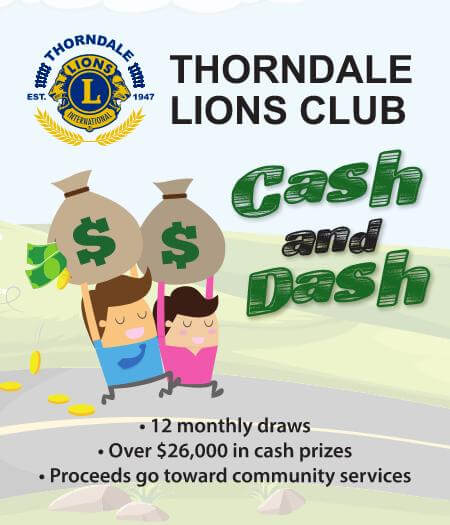 12 monthly draws of cash prizes!
Only 300 tickets to be sold!
Good luck!
Thorndale Lions Club CASH AND DASH is a monthly cash draw. Proceeds go to community services.  The draw is made on the first business Friday of every month   There are only 300 tickets sold.
Tickets are $135
The prize amounts are as followed: 9 months of $2200, 2 months of $1500, and one month of $4000.
2024 tickets are on sale now! Click the link below to purchase yours today. Good luck to everyone!
January 2023, Sumintra Surjo
February 2023, Eric and Sally Hendricks

March 2023, Julie Smith

April 2023, Kara Chowen & Rob Chauk

May 2023, Paul Hunter

June 2023, Susan Pratten

July 2023, Debbie Dufton

August 2023, Sarah and Colin Darling

September 2023, Kathy Donkers

October 2023, Gwen McArthur

November 2023, Derek Ackworth